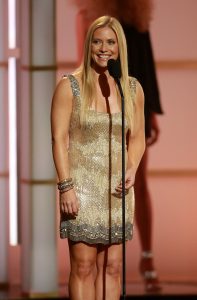 It all started in 1995 for Hollywood star Emily Procter. She made her film debut in Fast Company and had her first TV appearance in Renegade. More work came afterward, landing one-time roles in Leaving Platypus Man, Friends, and Lois & Clark: The New Adventures of Superman where she played Lana Lang. She later guest-appeared in Just Shoot Me! and Early Edition. She also starred in the made-for-television film The Dukes of Hazzard: Reunion!.
At the same time, she also had performances in the feature films Leaving Las Vegas, Jerry Maguire, Family Plan, Breast Man, Guinevere, Body Shots, Forever Fabulous, and The Big Tease. At the beginning of the 2000s, she became known for her recurring role as Ainsley Hayes on the acclaimed series The West Wing. It was, however, her role as Calleigh Duquesne in CSI: Miami that gained her mainstream prominence. She starred on the show from 2002-2012. Simultaneously, she had roles in the films Big Momma's House 2 and Barry Munday. After her work in CSI: Miami finished, she appeared as Amanda Callaway in two episodes of White Collar. Her most recent work in the movies was in 2016's Love Everlasting.
The 50-year-old actress takes care of herself by sticking to a clean diet plan. And while she is health-conscious, she also knows how to establish balance, which means she doesn't follow any strict dieting. "I eat healthy, real foods but I'm not an over-dieter, which I think is unhealthy," said the actress. According to the actress, the main staples in her kitchen include "micro greens, milk, eggs, salad makings, nuts, and rice crackers." She also grows her own vegetables so that they're totally fresh. "I grow tomatoes and it's very easy to grow basil. I always have cottage cheese in the refrigerator because I'll have that with the yellow teardrop cherry tomatoes I grow and some basil," she shared.