Early Career and Breakthrough with Mad Men
January Kristen Jones was born on January 5, 1978 in Brookings, South Dakota, United States to parents Karen and Marvin Jones. She has two sisters, Jacey and Jina. Her acting career began in 1999 after landing a role in the made-for-television film Sorority. That same year, she also made her big screen debut with It's the Rage, playing the role of Janice Taylor.
She went on to make guest spots in some television shows including Get Real. In the early 2000's, she appeared in the television films In My Life and Love's Enduring Promise. Early in her film career, she had roles in such movies as The Glass House, Bandits, Taboo, and Full Frontal.
In 2003, she was cast in a supporting role in the comedy film Anger Management, alongside Adam Sandler and Jack Nicholson. Despite the film's mixed reception, it became a blockbuster hit, earning $195,745,823 worldwide. She next appeared in American Pie 3: The Wedding that same year, where she played Cadence Flaherty, the sister of Alyson Hannigan's character. The film was also a blockbuster hit, earning $231,449,203 worldwide.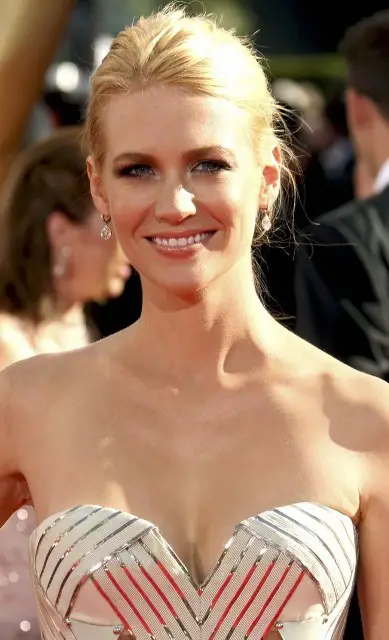 Her last film for 2003 was the British romantic comedy film Love Actually. The film features an ensemble cast that includes Hugh Grant, Liam Neeson, Colin Firth, Keira Knightley, Emma Thompson and Laura Linney, among others. She was then cast as Eve in the 2004 musical romance film Dirty Dancing: Havana Nights. The film garnered poor reviews and was a commercial disappointment as well.
In 2005, she played the role of Lou Ann Norton in Tommy Lee Jones' western film The Three Burials of Melquiades Estrada. That same year, she appeared in two episodes of the television series Huff. The following year, she appeared as Carole Dawson in the drama film We Are Marshall. The movie received mixed reviews and failed to bring back its $65 million budget, with its $43,545,364 worldwide gross earnings.
She gained wider fame in 2007 for her portrayal of Betty Draper in the television series Mad Men. The show has since received widespread acclaim, earning 15 Emmys and four Golden Globes. The final episode of the series will be aired in 2015. She has also appeared in an episode of the series Law & Order.
In 2009, she starred as Elenore in the British comedy film The Boat That Rocked (released Pirate Radio in North America). She then took a hiatus from the big screen for two years and made her comeback with 2011's psychological thriller Unknown, alongside Liam Neeson and Diane Kruger. The film received mixed reviews but became a box office success, earning $136,123,083 worldwide.
Also in 2011, she portrayed Emma Frost in the big-budget film X-Men: First Class. It went on to receive positive reviews and proved to be a commercial success as well, with an impressive ticket sales of $353,624,124 worldwide.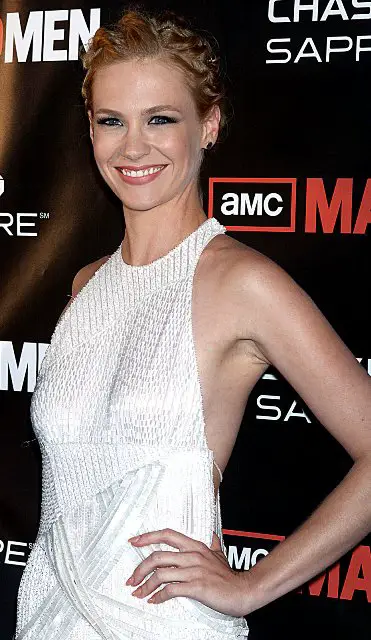 Recent Films and Plastic Surgery
Her last film of 2011 was the action thriller Seeking Justice, alongside Nicolas Cage and Guy Pearce. The feature garnered poor reviews and failed at the box office. She next appeared in the 2013 feature Sweetwater (released as Sweet Vengeance in the UK). It premiered at the 2013 Sundance Film Festival.
Jones presence in Mad Men is simply striking that she never went unnoticed. This and her red carpet moments further drew television viewers who have begun to develop an interest on her. And one thing that people want to know is if the 36-year-old beauty has ever been on a plastic surgeon's operating table.
Choosing to address her fans' growing curiosity, she revealed in an interview about her fear of plastic surgery and how she chooses to set such procedures aside for now.
She also shared with online magazine Violet Grey what her thoughts on cosmetic procedures are, expressing that she doesn't have a problem with plastic surgery as long as it makes a person feel good about himself. She explained: "Whatever helps a person feel beautiful and confident is fine with me."
Her statement clearly shows her open-mindedness on the subject. Apparently, the Mad Men actress isn't closing any possibilities of needing cosmetic procedures in the future despite her fear, saying: "I personally am afraid of the procedures that involve anesthetic but ask me again in twenty years."
For now, Jones is glad to content herself with other ways to keep herself looking youthful. The actress shared how her mother had told her not to pluck her eyebrows because it structures the face even more. That definitely sounds something!