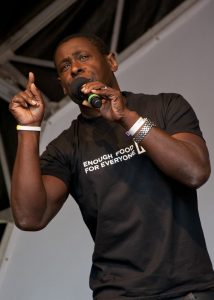 English actor David Harewood debuted in 1990. His first role was in an episode of the British series Casualty. That same year, he appeared in 4 episodes of The Bill. Later in 1993, he made his big screen debut in the film The Hawk. He then had roles in the films Mad Dogs and Englishmen and I Wonder Who's Kissing You Now. The rest of the '90s saw him performing in numerous television films, Great Moments in Aviation and Bermuda Grace, to name a few.
Harewood also starred as Dr. Mike Gregson in ITV's Always and Everyone and Sgt./D.I. Joe Robinson in The Vice. His television career flourished in the 2000s, playing Augustus 'Gus' Pottinger in Babyfather and Max Robertson in Fat Friends. In 2009, he played Tuck in 9 episodes of Robin Hood. During this period, the actor had performances in such feature films as The Merchant of Venice, Separate Lies, and Blood Diamond.
Between 2011 and 2012, he played David Estes in the Showtime series Homeland. After this, he portrayed Billy Bones in the miniseries Treasure Island. He later starred as Sam Saperstein in the short-lived show Selfie. Since 2015, Harewood has been starring as J'onn J'onzz/Martian Manhunter / Hank Henshaw/Cyborg Superman in the CBS series Supergirl. In 2017, he portrayed Walter Sisulu in the TV miniseries Madiba. In the movies, his latest role was in 2017's Tulip Fever.
David Harewood keeps in good shape by exercising on a regular basis. Playing a superhero in Supergirl, the actor engages in a vigorous workout routine to maintain his fit body, as well as his strength. "I play a superhero in TV's Supergirl, so I do two or three high-intensity workouts a week with a personal trainer," said the actor. "I've taken up snowboarding, too. At 52 I'm probably fitter than ever."