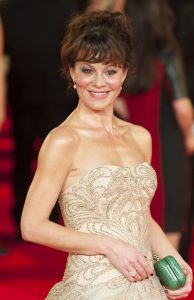 English actress Helen McCrory had her beginnings in the early 1990s. Her first credited role was in the British film Uncovered. She later had notable roles in the shows The Fragile Heart and Trial & Retribution. In the 2000s, she had remarkable performances in the films Charlotte Gray and The Count of Monte Cristo. She later portrayed Cherie Blair in the British feature The Queen. Her next role was as Mrs. Radcliffe in the film Becoming Jane. She later played Narcissa Malfoy in Harry Potter and the Half-Blood Prince.
She reprised her role in the sequels Harry Potter and the Deathly Hallows – Part 1 and Harry Potter and the Deathly Hallows – Part 2. In the 2010s, she also had supporting roles in the movies Hugo, Skyfall, Bill, Their Finest, and Loving Vincent. On television, she currently stars as Aunt Polly / Polly Gray in the series Peaky Blinders. She's also played Evelyn Poole in Penny Dreadful and Emma Banville in Fearless.
She is nearing her 50s but the English actress continues to be slender and youthful thanks to her healthy diet plan. In an interview, she revealed that she's really not into processed or junk foods. "I don't eat any processed or ready-made foods — everything is from scratch — and I've never been to McDonald's. I only buy organic, and fish has to be ethically caught. I'm really good at getting my five fruit and veg a day because I genuinely like it," she said.
Another interesting fact about the English star is that she's never dieted. While she eats healthily, it's not really considered dieting. She said: "I'm a size 6 and only 5ft 3in tall. I've put on a little weight since having kids and got a wee tummy now, but such is life after childbirth, I think." On the other hand, the actress also has her guilty pleasure when it comes to food and for her it's "Camembert or bottle of red wine".