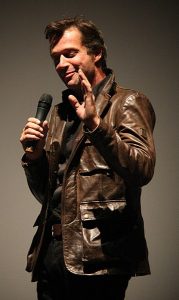 Hollywood actor James Purefoy had his career beginnings in 1990. His first acting role was in the television series Coasting. He next made one-time roles in The Case-book of Sherlock Holmes and Boon, as well as acted in the made-for-television film The Cloning of Joanna May. Later in 1993, he appeared in 4 episodes of Rides. He then made his cinematic debut in the 1995 film Feast of July, followed by roles in the films Bedrooms and Hallways, Mansfield Park, and Women Talking Dirty.
He also starred in numerous TV movies and miniseries during this period. In 2000, he became widely known for his role as Edward, the Black Prince of Wales/Sir Thomas Colville in A Knight's Tale. He later played Spence Parks in Resident Evil. He went on to star in the films George and the Dragon, Blessed, and Vanity Fair. Between 2005 and 2007, he played Mark Antony in the television series Rome.
At the same time, he played the titular character in Beau Brummell: This Charming Man. He subsequently starred in the miniseries The Summit. In 2010, Purefoy played the lead in the movie Solomon Kane. He went on to star in the films Ironclad, John Carter, Wicked Blood, Momentum, High-Rise, and Equity. In 2017, he portrayed King George VI in the film Churchill. Back on television, he's also best known for starring as Joe Carroll in The Following and Hap Collins in Hap and Leonard. He recently played Remi Milburn in Sex Education.
The English actor is mindful of his lifestyle. He eats clean and works out. "There's absolutely no excuse for having man-boobs. None whatsoever," said Purefoy. Best of all, he does everything in moderation. "Don't drink and smoke too much, don't do too many drugs, and know when to pull the parachute cord on a night out. But equally, don't smash it in the gym too much either, just go for that run occasionally and eat your greens. Moderation will keep you acceptably healthy and ticking over," the actor advised.