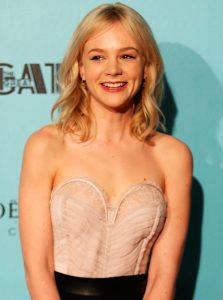 Carey Mulligan is an English actress who started her career in the mid 2000s with her first film role as Kitty Bennet in the movie adaptation of the Jane Austen novel Pride & Prejudice. Around the same time, she had main roles on the UK television shows Bleak House and The Amazing Mrs Pritchard, as well as in the TV film Agatha Christie's Marple: The Sittaford Mystery. Her major breakthrough came in 2000 when she starred in An Education, for which her performance was acclaimed, earning her an Oscar nomination for Best Actress. She has since starred in the movies Never Let Me Go, Wall Street: Money Never Sleeps, and once again was lauded in her performance in Shame. She portrayed Daisy Buchanan in The Great Gatsby and played the lead in the film adaptation of the novel Far from the Madding Crowd.
The 31-year-old actress stands at 5'7, which makes her very slender frame becomes more emphasized. Ever since starting her career on the screen, Carey has been slim, her built almost looking like she's frail, or maybe that has something to do with her face being so cute and feminine. But the actress achieves her figure through healthy eating and working out as well. Though it can be expected that she's gifted with amazing genes, it can also be noted that like any normal person, she works hard to achieve a very ideal result, which is a healthy and a fit body.
To achieve this, not only does she eat clean and nutritious foods, she also engages herself in physical activities. For example, to lose weight for her role in The Great Gatsby, she took Pilates classes to shed some pounds. This also helped her obtain the body of her character which was only in her 20s. Even when she's not playing any parts, Carey is an active runner, considering this as one of the best workouts there is. Apparently, she's fine with doing the basic stuff when it comes to exercising. She hasn't done any serious workout sessions as her roles are mostly dramatic ones, though she regularly gives her body the right boost by just physically active.