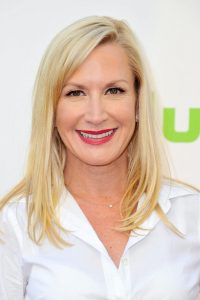 It was in the late '90s that Angela Kinsey got started performing. Her first gig was with a voice role in the animated sitcom King of the Hill. Her first acting live role was in an episode of Step by Step. In the 2000s, she first made guest appearances in Run of the House and All of Us. Soon, she achieved success on television for her role as Angela Martin in the sitcom The Office.
She starred on the show in the entirety of its nine-season run from 2005 to 2013. During this period, she also landed roles on the big screen. Her first film role was in 2009's License to Wed. She later starred in the films Tripping Forward, Furry Vengeance, and Struck by Lightning. Also, she reprised her role as Angela Martin in the spin-offs The Office: The Accountants, The Office: The Outburst, and The Office: The Mentor.
After The Office concluded in 2013, she appeared in 3 episodes of Hollywood Game Night. She next played Rose in 4 episodes of New Girl. In 2014, she starred in the Hulu sitcom The Hotwives of Orlando. Later, she played a recurring role in Bad Judge. Kinsey then starred as Bethany in the short-lived series Haters Back Off. More recently, she had performances in the films Half Magic, Andover, and Tall Girl.
The actress maintains a healthy body by watching what she eats and living an active life. She's mostly on the go so that gives her body the physical exercise it needs. As for the basic Angela Kinsey workout routine, she walks a lot, runs, and even bikes. "I bring my bike to work, and I make laps around our parking lot on my lunch break. The other day, I rounded the corner and Ed Helms was filming. I almost wiped out!" said the actress.