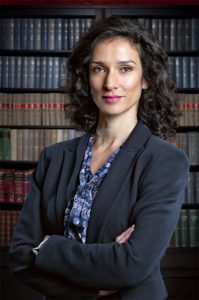 English actress Indira Varma got her start in the mid-1990s. She made her debut with a starring role in the 1996 film Kama Sutra: A Tale of Love. At the same time, she made her television debut on Crucial Tales. She next had roles in the films Clancy's Kitchen, Sixth Happiness, and Jinnah. She also played Dr. Martine Nichol on the miniseries Psychos. Her career became more active in the 20000s. She appeared as Sasha in 4 episodes of Attachments, Sonali Ganatra on In a Land of Plenty, and guest-starred on Rockface and The Canterbury Tales. She next starred on the TV movies The Quatermass Experiment, A Waste of Shame, and played Melanie Bellamy in 6 episodes of Broken News.
From 2005 to 2007, she played Niobe of the Voreni on the miniseries Rome. She later played Dr. Adrianne Holland in 3 lbs and Alisha Cole in The Whistleblowers. Also in the 2000s, she had roles in the films Bride and Prejudice and Basic Instinct 2. In the 2010s, she first played Zoe Luther on the BBC series Luther. This was followed by her role as Ilsa Pucci on Human Target, George Duggan on Silk, and Natalie Thorpe on Hunted. From 2014 to 2017, she became known for her role as Ellaria Sand on Game of Thrones. She also starred as Nina Suresh on Paranoid and Anne Moore on Patrick Melrose. She will star on the upcoming show Carnival Row.
In an interview, the actress admitted that she doesn't really follow any kinds of diet since she's a food lover. She said: "I love all kinds of food. I haven't eaten out loads, but I went to Australasia which was phenomenally good. Trof – hands down best breakfast, I'm going to go there after this. Lavuna, a tapas place in the Northern Quarter which is really excellent, and Evelyn's I love as well, really nice also." She also said she drinks lots of water, which helps her feel great on the inside and out.