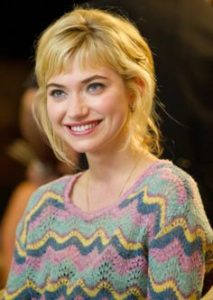 The English actress Imogen Poots is pretty much recognizable both in the UK and Hollywood. After making her debut in V for Vendetta, she starred in the film 28 Weeks Later, which became her first starring credit. Her subsequent movies are Me and Orson Welles and Solitary Man to name a few. She is more active on the big screen. In the next decade, she had notable performances in Jane Eyre and Fright Night. She also starred in the romantic comedies That Awkward Moment and She's Funny That Way. She recently portrayed the female lead in the movie Frank & Lola. In addition to her film credits, she recently starred on the TV series Roadies, created by Cameron Crowe.
The young actress has maintained her slender figure all these years. It's probably her genes that allows her to stay slim in addition to practicing healthy eating. Imogen acknowledges the fact that clean and healthy eating are the key to health and fitness. Though she's young and naturally loves food, the actress believes that she can still enjoy food while making sure she only consumes nutritious ones. This way, she looks great, which is crucial being an actress who appears on screen, and healthy to do her job.
In the morning, the actress doesn't skip breakfast and enrich her body with healthy food. She mostly eats oatmeal, egg, wheat bread, fruit juice, and sometimes tea. She occasionally has some bacon or ham with eggs in the morning as well. She goes for a heavier meal for lunch where she has pasta, chicken or sandwich. For dinner, she has fish or tuna pasta with veggies. She actually incorporates vegetables in all her meals. For snacks, she goes for yogurt, almonds, fruits, and shakes. Like others she has a cheat day where she allows herself to have some burgers, fries, and pizza, as well as chocolates.