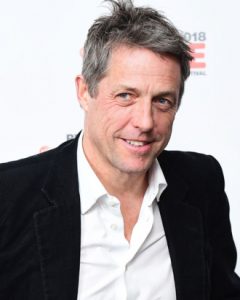 Well-known Hollywood actor Hugh Grant has established himself as a leading man with several notable starring roles in romantic comedies and even dramas. Initially, he first gained attention for his performance in the 1987 movie Maurice. Years later in 1994, he rose to fame for his role in Four Weddings and a Funeral. He later used his comical talent in such films as Mickey Blue Eyes and Notting Hill. He also portrayed Edward C. Ferrars in the film Sense and Sensibility. In the 2000s, he proved his versatility with roles in Bridget Jones's Diary, About a Boy, and American Dreamz.
He also starred in the movies Two Weeks Notice, Love Actually, and reprised his role as Daniel in Bridget Jones: The Edge of Reason. Next, he co-starred with Drew Barrymore in Music and Lyrics and Sarah Jessica Parker in Did You Hear About the Morgans?. In the 2010s, he had roles in the films Cloud Atlas, The Rewrite, The Man from U.N.C.L.E., Florence Foster Jenkins, and Paddington 2. Also in 2018, he portrayed Jeremy Thorpe in the British miniseries A Very English Scandal. He's currently filming for the upcoming movie Toff Guys.
In Hollywood, following diet plans doesn't just apply to actresses. Even actors themselves have to practice a restricted eating regimen — sometimes for a certain role. Often times, they just want to look lean and fit, as well as feel healthy and strong overall. As for Grant, it's been reported that the English star has followed the low-sugar clean and lean diet. As the name suggests, this diet entails substantially cutting down on sugar and basically anything that's processed. Hence, Grant possibly mostly eats chicken and fish for proteins, complex carb foods such as oatmeal, and fruits and veggies. Nonetheless, the actor also allows himself to eat whatever he likes as long as it's in moderation.