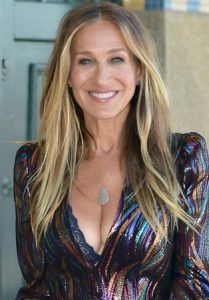 It was in 1974 that actress Sarah Jessica Parker got her start on the screen. She debuted as the title role in the TV film The Little Match Girl. In the 1980s, she had her first main role as Patty Greene in the CBS sitcom Square Pegs. She later starred as Kay Erickson in the miniseries A Year in the Life. Meanwhile, she had her first movie role in 1983's Somewhere Tomorrow. She next had roles in Footloose and Girls Just Want to Have Fun. In the '90s, she first had roles in the movies Hocus Pocus, Ed Wood, Miami Rhapsody, Mars Attacks!, The First Wives Club, and 'Til There Was You.
Following this, she achieved greater stardom for her role as Carrie Bradshaw in HBO's Sex and the City. She won an Emmy for her role, as well as 4 Golden Globes for Best Actress. She starred on the show from 1998-2004. Afterward, she starred in the films The Family Stone, Failure to Launch, and Did You Hear About the Morgans? She also reprised her role as Carrie in the film Sex and the City and its sequel. She went on to star in I Don't Know How She Does It, New Year's Eve, and Here and Now. As of 2016, she stars as Frances Dufresne in the HBO series Divorce.
Apart from her diet plan, the Hollywood star takes care of her body and overall well-being by following an active lifestyle. For starters, she works out on a regular basis. She loves to run, so she does often. Her cardio exercises give her the energy she needs to work and be a mom. She also mixes things up to avoid getting bored. The Sex and the City actress has also taken a liking to yoga and Pilates, which has since helped her improve her strength and balance.