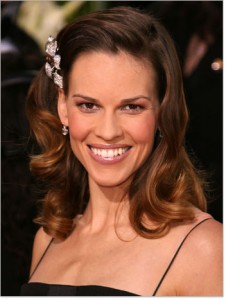 Award-winning actress Hilary Swank is one of the few performers in Hollywood who has proven her great talent for acting over and over again. Starting her film career in the early 1990s, she had her breakthrough in The Next Karate Kid (1994). She was also able to secure a main role in Beverly Hills, 90210 in the late 1990s before achieving widespread fame for her performance in Boys Don't Cry (1999), a role that both earned her the Academy Award and the Golden Globe for Best Actress. She would again receive her second Oscar and Golden Globe for her lead role in Million Dollar Baby (2004). In the next few years, Hilary starred in the movies Iron Jawed Angels, The Reaping, P.S. I Love You, Freedom Writers, and Amelia. Her most recent work on the big screen are in The Homesman and You're Not You, both released in 2014.
The 41-year-old actress stands at 5'6 and is known for her athletic body. In the present, she's a big believer of workout and does it regularly. When it comes to her diet, Hilary chooses to eat whatever she likes as long as she does moderately. She acknowledges that she's blessed with good genes because she doesn't gain weight that easy despite her being a big-eater. But this doesn't make her careless and complacent. She still takes care of her body by setting limits.
In an interview with Men's Fitness, she said: "I really like food and food is life to me, but I kind of eat what I want and do it in moderation." Her love of food makes her allow herself to eat whatever it is that she craves, as long as she is cautious of the portion size. Being an A-list actress, she works nonstop so eating nutritious food is important to her. In addition to eating healthy and moderately, she takes vitamins. When she needs to take a special dieting program for certain roles, she practices a protein packed diet, which consists of egg whites and protein shakes.