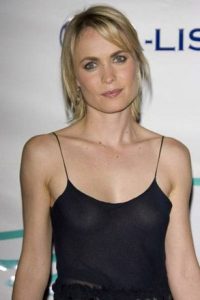 Aussie actress Radha Mitchell has since established a Hollywood career. She debuted on television in her native Australia during the 1980s with the show Sugar and Spice. The following decade, she played recurring part Jodie in All Together Now. She next guest-starred in Blue Heelers and played Cassandra Rushmore in the long-running soap opera Neighbours. In 1996, she made her cinematic debut in the film Love and Other Catastrophes. Later, she gained notice for her performance in the independent feature High Art.
Her next role was in 1998's Cleopatra's Second Husband. In the 2000s, she began a career in Hollywood, first starring as Carolyn Fry in the movie Pitch Black. Subsequently, she had performances in the films Ten Tiny Love Stories, Nobody's Baby, When Strangers Appear, Dead Heat, and Phone Booth. She became further known for her starring roles in the movies Visitors, Man on Fire, and Finding Neverland.
Mitchell also played the lead in the film Melinda and Melinda. In 2006, she starred as Rose Da Silva in the horror movie Silent Hill. After this, she starred in more movies, including Feast of Love, Rogue, The Children of Huang Shi, Surrogates, and The Waiting City. In the 2010s, she reprised her role as Rose Da Silva in 2012's Silent Hill: Revelation 3D. That same year, she portrayed Carolyn Cassady in the movie Big Sur. In 2013, she played the lead role Marta Walraven in the short-lived series Red Widow.
The 46-year-old actress stays in shape by following an active lifestyle. But, of all the exercises she has tried, it's yoga that she ended up incorporating into her routine for good. "I've done yoga three or four times a week for about nine years – Ashtanga and Iyengar – and I was never interested in it for the aerobic aspect," said the actress. "But now I'm more appreciative of that. Mostly I've done it to help with stress – if you carry tension in your body, yoga stretches out your muscles and takes it out. Plus, you can put your legs behind your head."