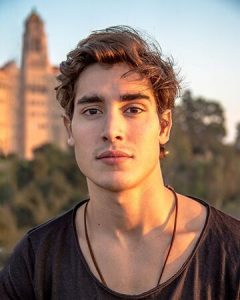 Henry Zaga first acted in the 2015 short film called The Wing. That same year, he had his first television appearance in an episode of The Mysteries of Laura. Zaga then gained recognition after he played the recurring character of Josh Diaz in the television series Teen Wolf. He next made his feature film debut XOXO, followed by a role in the movie MDMA. Around this period, he appeared as Brad in some episodes of 13 Reasons Why, as well as had roles in the independent films Deadly Detention and Cherry Pop.
From 2019 to 2020, he starred as Luka Novak in the Netflix teen drama Trinkets. He simultaneously starred as Jake in the miniseries Looking for Alaska. Zaga's breakthrough role is Roberto da Costa / Sunspot in the new film The New Mutants. To add, he starred as Nick Andros in the CBS All Access series The Stand. In addition to his work in movies and TV shows, the actor also appeared in the music video of Hayley Kiyoko's single "Curious".
For his role in New Mutants, Henry Zaga trained more extensively to prepare for all the physicalities that it required. And because this is his first role in a major film, the actor is thrilled to work hard for it. "It makes you get up at 4:30 in the morning because you have to work out, prep for this very demanding role, physically and fanwise as wel," he said.
Training and rehearsing for the movie also took him and the rest of the cast three weeks before filming, so his experience here really upped his fitness regimen. When not prepping for a role, the actor likes to keep his workout routine simple with a combination of cardio, weights, and lots of sports and outdoor activities, which he all finds to be very effective in keeping him strong and fit.