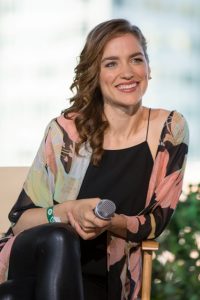 Canadian star Melanie Scrofano had her career beginnings in the early 2000s. During her initial years, she guest starred on such television shows as Undressed, Naked Josh, and Beautiful People. Her first recurring role was on Jeff Ltd.. She then made her film debut in Baby Blues. She next appeared as Gena in the movie Saw VI. Her first main role on the small screen was as October on the TV series Pure Pwnage. At the same time, she had a recurring role as Rebecca on Being Erica. She then became known for her role as Tia Tremblay on The Listener. In 2016, she gained wider recognition for her portrayal of the titular role on the TV series Wynonna Earp. At the same time she's also had recurring roles on Designated Survivor and Letterkenny.
The 35-year-old actress maintains her health and fitness by healthy eating. Though she prefers eating nutritious foods most of the time. She also allows herself to indulge in her cravings every now and then. For her, there's no such thing as foods that are bad for her, unless you don't eat them in moderation. When asked about her favorite food that's kind of terrible for her, she said: "No such thing as food that's terrible for you, unless you binge on it. Or unless there's rat poison in it. Or opium. So I guess, poppyseeds?"
The actress also shared her love of coffee in the morning. In fact, she said the first thing she does when she wakes up in the morning is to make coffee. Another interesting thing about the Wynonna Earp actress is that she makes great pizza. In this case, she's able to make a healthier version of it because she gets to choose the ingredients she puts in her own pizza. The actress also makes sure she drinks plenty of water.