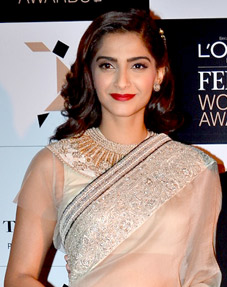 Bollywood actress Sonam Kapoor is already slated for an acting career. This is because she's the daughter of well-known Indian actor Anil Kapoor. After working as an assistant director, she eventually pursued being on the screen. She made her first film appearance in Saawariya in the late 2000s. It took her a few years to find success in the box office movie I Hate Luv Storys. Her subsequent movies failed to succeed at the box office. This is until the 2013 film Raanjhanaa. Her work in this film also earned her awards and nominations. Her roles in Khoobsurat and Dolly Ki Doli were also great for her career. She recently starred in Prem Ratan Dhan Payo, a huge box office success in India.
Standing at 5'9, the 31-year-old actress has a modelesque figure. Her svelte figure, though made possible by her great Indian genes, can also be credited to her healthy diet. The actress knows that eating right is important for her overall health and well-being. She also knows that by loading herself with nutrition, she boosts her energy and her general mood. This makes her more efficient in the roles she plays and allows her to work productively as an actress. Thus, she tries her best to stay away from processed foods.
For one, eating unhealthy makes her weaker. Not good if she wants to maintain her prolific career in Bollywood. Thus she focuses on eating foods that are low in fat but high in proteins. In the morning she begins her day with a fruit and oatmeal. She then has a morning snack eating brown bread with egg white and protein shake. For lunch, she has grilled chicken, dal, fish, salad and chapati for lunch. Chapatis are made of bajra or jowar. She also stays away from red meat. For dinner, she usually has fish, chicken soup and salad.