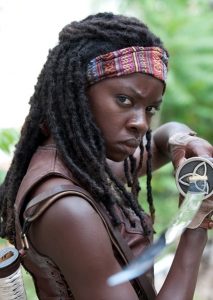 American actress and playwright Danai Gurira got her start in 2004 when she made her TV debut on Law & Order: Criminal Intent. She next had her first film role in 2007's The Visitor, followed by a minor role in the movie Ghost Town. She later had guest appearances on the shows Life on Mars, Law & Order, American Experience, and Lie to Me.
She next played the role of Jill on the show Treme. She also had roles in the films My Soul to Take and Restless City. She achieved mainstream prominence in 2012 after she started starring as Michonne in AMC's The Walking Dead. She remains a part of the main cast up to present. While on the show, she has also appeared in the films Mother of George and All Eyez on Me. This year, she played Okoye in the blockbuster hits Black Panther and Avengers: Infinity War.
The 40-year-old actress remains physically fit and strong, which is pretty much obvious with her portrayal of the katana-wielding fighter in The Walking Dead. Recently, she's also gotten her biggest break on the big screen with her starring role on Marvel's Black Panther and Avengers: Infinity War. Of course, she also trained for her role in these films. There are no excuses for her when it comes to exercising. "There's always enough time in the day to get in a 20-minute workout," she said.
According to the actress, she keeps her body healthy and tough by doing "cross-training, Jillian Michaels DVDs, Pilates and sword practice". As a matter of fact, she's been doing these workouts even before she became a screen actress as part of her preparation when performing on plays. She was also always active during her younger years, saying she grew up in Zimbabwe "swimming, running track and playing tennis and field hockey."