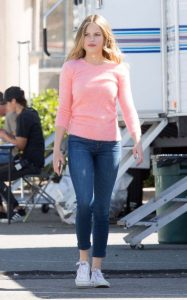 Film and TV actress Halston Sage began her Hollywood career only in the 2010s. Her first acting gig was in an episode of the Nickelodeon sitcom Victorious. After this she made her feature film debut in The First Time. Her first regular role was on the teen sitcom How to Rock, which only lasted for one season. She also appeared as herself on the game show Figure It Out. She then became more active with more roles on the big screen with roles in The Bling Ring, Poker Night, Grown Ups 2 and Neighbors. Subsequently, she starred in the films Paper Towns and Scouts Guide to the Zombie Apocalypse.
The 23-year-old actress has a slender physique that makes her more attractive. Though she's young, she doesn't rely her fitness to her fast metabolism. She also maintains her good health and body by taking care of herself well. She acknowledges the importance of an active lifestyle and proper nutrition, not only to look slender, but to also feel generally healthy. By looking great and being healthy at the same time, she has it in her to be more prolific as an actress. That is why she maintains a healthy eating habit.
This means she focuses on eating mostly proteins, whole grains, fruits and vegetables. She indulges her cravings occasionally, but she does in moderation. Portion control is always a part of her eating routine. In the morning, she starts her day right by having an egg, or whole grain oats, with tea or fresh fruit juice. For lunch, she has fish or chicken partnered with a bowl of pasta or rice, plus some salad. For dinner, she opts for a light meal, which is mostly chicken or tuna sandwich with salad. She also snacks on something healthy like fruits, nuts and yogurt to avoid feeling hungry, which causes overeating.