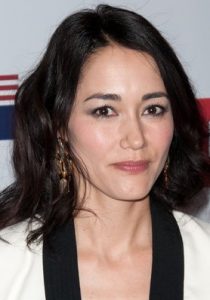 Actress Sandrine Holt got her start when she debuted in an episode of Friday the 13th: The Series in 1989. She became more active in the '90s, landing her first movie role in 1991's Black Robe. She later portrayed Pocahontas in the film Pocahontas: The Legend. She later starred in the movies Gunslinger's Revenge and Loving Jezebel. From 1997 to 1998, she played Li Ann Tsei on the Canadian series Once a Thief. During the 2000s, she had performances in the movies Fast Food Fast Women, Century Hotel, and Ballistic: Ecks vs. Sever. She later played Terri Morales in the film Resident Evil: Apocalypse.
On television, she also became known for her recurring character as Evelyn Martin on 24. She next played Erin Baxter on The Runaway and Catherine Rothberg on The L Word. Continuing her career in the 2010s, she played Sandrine Renault on the CBS series Hostages. At the same time, she played recurring role Gillian Cole on House of Cards. In 2015, she joined the main cast of the show The Returned as Julie Han and played Dr. Bethany Exner on Fear the Walking Dead. Following this, she starred as Patricia Thornton on McGyver. In 2018, she played Simone Martin on Homeland and starred as Emma Ren on The Crossing. She also had supporting roles in the movies Underworld: Awakening and Terminator Genisys.
The 46-year-old actress stays in shape by following a clean diet plan. Being in her 40s, it's made her more careful of the foods she consumes. So, she makes sure that she eats mostly clean and nutritious foods. She naturally avoids processed foods as they make her feel lethargic. They also make her skin break out. Her diet plan mainly consists of lean proteins, whole grains, as well as fruits and veggies, which she incorporates into her diet all the time.