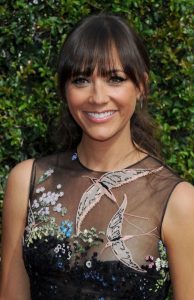 Hollywood star Rashida Jones' career all began in the 1990s. Her first acting gig was on the miniseries The Last Don. Her movie debut was in Myth America. She became more active in the 2000s. Her first significant role was as Louisa Fenn on Boston Public. She also had a role in the movie Full Frontal, followed by Little Black Book. She went on to play the lead role in the British series NY-LON. Subsequently, she starred as Karen Filippelli on The Office. She is however best known for starring as Ann Perkins on the comedy series Parks and Recreation. She next landed the titular character on the new series Angie Tribeca. She's also a prolific film actress. On the big screen she has appeared/starred in The Social Network, Our Idiot Brother and Celeste and Jesse Forever (which she also wrote).
She may be in her 40s, but Rashida looks youthful as ever. She is flawless and she manages to maintain her fit and healthy figure. The actress revealed that she struggled with her weight during her early years. She shared that she was chubby as a kid. Growing up, she understood the importance of proper nutrition and active lifestyle, may it be intense workouts or as simple as taking a walk. She ate anything she wanted when she was younger, but now she's more disciplined of what foods or meals to have. As a busy actress, she manages to have a healthy lifestyle.
Waking up early in the morning, she shares she has a cup of coffee first thing. Generally, she eats nutritious foods, mostly veggies. She buys vegetables from the farmer's market herself and make stir-fry. She also shared how she loves to cook something easy yet healthy, like pasta with some fresh herbs and cheese. Overall, she avoids eating junk and processed foods. She relies on organic ones to stay fit and healthy.