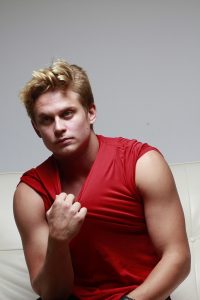 Hollywood star Billy Magnussen debuted on television. His first role was as Casey Hughes on the soap opera As the World Turns, which he played from 2008 to 2010. He later made his cinematic debut in the movie Happy Tears. At the same time, he had a role in the film Blood Night: The Legend of Mary Hatchet. He also appeared as Alex Marinelli in 3 episodes of The Beautiful Life: TBL.
In the 2010s, he first had several one-time roles on TV, as well as starred in the TV film The Lost Valentine. He went on to have two-episode stints on CSI: Crime Scene Investigation and Boardwalk Empire. He later played recurring character Eric Zale on The Divide. He simultaneously had performances in the films Twelve, Choose, Damsels in Distress, Surviving Family, The Brass Teapot, and The East. In 2014, he starred in the film Revenge of the Green Dragons. He also starred as Rapunzel's Prince in Into the Woods.
He later had notable roles in I Smile Back, The Meddler, Bridge of Spies, and The Great Gilly Hopkins. In 2016, he portrayed Kato Kaelin on The People v. O. J. Simpson: American Crime Story. He later played Nathan Hill on the TV series Get Shorty. More recently, he played Jed Milgrim / Grimsson on Netflix's Maniac, as well as starred as Joshua/Nick Sullivan on the new series Tell Me a Story. His latest roles in the movies were in Game Night, The Oath, and Velvet Buzzsaw.
The actor has gone through a physical transformation — from being skinny to buff, he's now got the physique that combines masculine vigor and strength. His workout routine depends on his roles on the screen. Sometimes he needs to lose weight and other times he needs to gain more muscle mass. Nonetheless, he has an active lifestyle. He works out six times a week, mixing cardio, weight, and circuit training. He plays sports and engages in outdoor activities when he's got the time. By and large, he takes care of his body by exercising as regularly as possible.