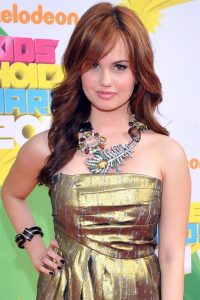 Hollywood star Debby Ryan started her career as a little girl. Her debut was in Barney and Friends. Her breakthrough on television was as Bailey Pickett on The Suite Life on Deck. She reprised her role on the TV movie The Suite Life Movie. She went on to make her big screen debut in the movie The Longshots, followed by 2010's What If…. Afterwards, she rose to further fame after playing the lead on the Disney series Jessie. She also starred on the TV movie Radio Rebel. More recently, she had notable roles on the TV shows The Mysteries of Laura and starred on the short-lived series Sing It!. She will star on the upcoming series Insatiable.
The 24-year-old actress makes great efforts to stay healthy. She does this by choosing healthy foods over junk foods most of the time. Aside from this, she also makes it a point that she exercises as regularly as possible. Even at a young age, she understands the importance of being physically active in order to become fit and healthy. Being active on television, her work as an actress also gives her the excuse to keep moving. She's always on-the-go and even when she's resting, she makes sure she does some form of exercise like yoga.
In fact, she likes yoga she much she does it on a regular basis. She also credits her great skin for doing hot yoga. In her social media, she posted a photo of her face with her radiant skin saying she got it after doing hot yoga. Of course, it is not unknown that exercises like yoga can have many health benefits aside from improving your core and flexibility. Yoga is also known for its benefits of increasing one's metabolism, so it's a great workout for losing or sustaining healthy weight, too.