From Comedic Roles to Being Hollywood's Leading Lady
Emily Jean Stone, known as Emma Stone, was born on November 6, 1988 in Scottsdale, Arizona, United States. Her parents, Jeff and Krista Stone are co-owners of the Camelback Golf Club. She lived on the grounds of the Camelback Inn resort from when she was 12. She studied at Sequoya Elementary School and for the sixth grade, attended Cocopah Middle School.
She was homeschooled for two years and during this period, became involved in theatre by appearing in the productions of The Princess and the Pea, Alice in Wonderland, and Joseph and the Amazing Technicolor Dreamcoat at Valley Youth Theatre. She also performed with the theatre's improv comedy troupe.
To further her acting training, her parents sent her for private lessons with a local acting coach. She then attended Xavier College Preparatory as a freshman for a semester. To convince her parents in letting her move to Hollywood to pursue a career in acting, she got creative by making a PowerPoint presentation set to the Madonna song "Hollywood".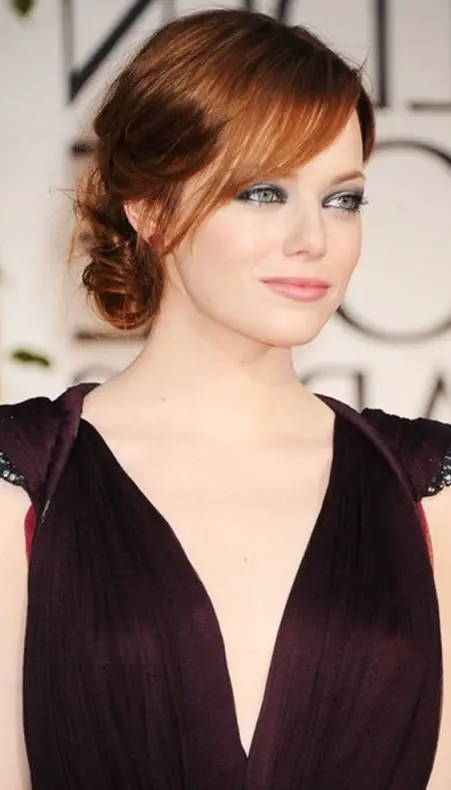 In 2004, at the age of 15, she moved to Los Angeles with her mother where she started to be homeschooled again. That same year, she made her television debut as Laurie Partridge in the VH1 talent competition reality show In Search of the New Partridge Family. It resulted in a show that was renamed as The New Partridge Family in 2005 though it became an unsold pilot.
She then landed guest spots in some television series including Medium, Malcolm in the Middle and Lucky Louie. She auditioned for the part of Claire Bennet in the NBC series Heroes but the role went to Hayden Panettiere. In 2007, she appeared as Violet Trimble in the Fox series Drive, although the program was cancelled after seven episodes.
She then made her film debut as Jules in 2007's Superbad. Her role gained her substantial recognition, leading her to star in more films such as in the 2008's The Rocker and co-starring with Anna Faris in The House Bunny.
In 2009, she joined the cast of the romantic comedy Ghosts of Girlfriends Past alongside Jennifer Garner, Matthew McConaughey and Michael Douglas. She next starred in the comedy-horror Zombieland alongside Jesse Eisenberg, Woody Harrelson and Abigail Breslin.
She went on to star as Abby in Paper Man and as Mazie in Marmaduke before landing her first leading role of Olive Penderghast in the 2010 comedy Easy A. For her performance, she received her first Golden Globe nomination for Best Actress in a Musical or Comedy, establishing her as a sought-after actress in Hollywood.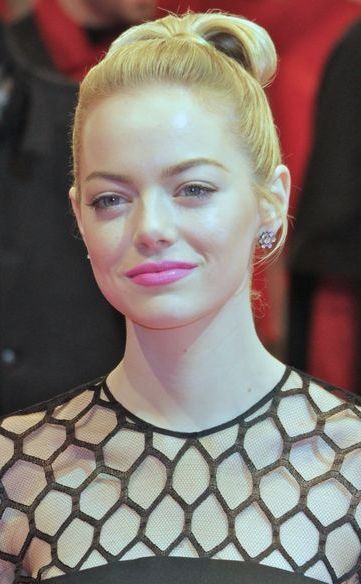 In 2011, she co-starred with Steve Carell, Julianne Moore and Ryan Gosling in the romantic comedy-drama Crazy, Stupid, Love. The film received positive response from critics and went on to become a box office success as well. She then played Eugenia "Skeeter" Phelan in the drama film The Help, an adaptation of Kathryn Stockett's novel of the same name.
The movie earned an Academy Award nomination for Best Picture.
In 2012, she gained further fame after being cast as Gwen Stacy in The Amazing Spider-Man, a reboot of the Spider-Man film series.The following year, she reunited with her Crazy, Stupid, Love co-star Ryan Gosling in the crime feature Gangster Squad. The film was a critical failure but performed well at the box office.
Personal Relationships and Rhinoplasty Rumors
She started dating her The Amazing Spider-Man co-star Andrew Garfield since mid-2011. After she was cast in the film, director Marc Webb noted the chemistry between them, making her the perfect choice. Their onscreen chemistry, then, inspired their off-screen romance.
In recent years, the Easy A actress is also getting some attention for her improving looks. Various sites are claiming that Stone has had rhinoplasty. Compared to her nose before, which was rounded particularly its tip , the actress has now become more attractive, with her nose being narrower and thinner.
Aside from undergoing a nose job, Stone may have also had lip injections as her lips seem fuller compared to her younger years. Her new, thinner nose and fuller lips definitely contribute to the actress' overall facial symmetry that gives her more glow and appeal. However, despite the persistent claims on her changed appearance, Stone has not yet made any comments to address the reports.