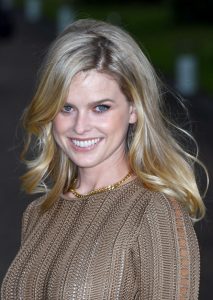 English beauty Alice Eve's journey to Hollywood was a tough one, but she made it nonetheless. Making her first appearance in Stage Beauty, she later had starring roles in Starter for 10 and Big Nothing. Her American debut was in the independent crime drama Crossing Over. Her Hollywood career took an interesting turn when she was cast for the female lead in the romantic comedy She's Out of My League, which got her recognized. In the 2010s, she had starring roles in less known films and straight-to-video, but went back to mainstream with Men in Black 3. Her international breakthrough, however, was as Carol Marcus in Star Trek Into Darkness. She will star in the upcoming film The Brits Are Coming.
The 34-year-old actress showcased her lean and toned figure in Star Trek Into Darkness, making her performance in the film more remarkable. Though she already has a slender figure, she worked particularly harder for her role in the said film. Aside from dieting to make sure she doesn't shed any unwanted pounds, going to extra lengths of only eating spinach, for weeks she also spent lots of time and efforts exercising to achieve her goals. She said it was crucial for her to obtain a proper fighting shape. It was the Star Trek after all.
Now that the movie's over, it doesn't mean that Alice has gone relaxed and complacent with her physical self (though she's stopped the only-spinach diet so she's probably relaxed now). She ensures she stays active to keep in shape. Aside from doing cardio exercises as regularly as possible, the actress practices yoga to not only achieve physical well-being, but mental as well. In fact, she prefers yoga than hitting the gym. Seeing she has a curvy figure, rather than a long slender body, Alice has since embraced this and focuses on getting healthy.