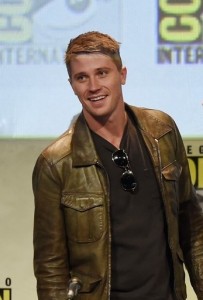 Multi-talented American star Garrett Hedlund began his professional acting career in 2004 with roles in well-known films, such as Troy and Friday Night Lights. He landed subsequent roles in the next years to come, such as in Four Brothers, Georgia Rule, and went on to play a notable role in Eragon released in 2006. Though he took a hiatus in the late 2000s, he came back stronger in 2010 with another remarkable role in Tron: Legacy. Afterwards, he starred in Country Strong, On the Road, and Inside Llewyn Davis. His most recent work on the big screen are Angelina Jolie's movie Unbroken, Mojave, and Pan. Prior to working as an actor, Garrett started his show business journey as a model when he was in his late teens. He was 18 when he decided to go to Los Angeles to become an actor.
31-year-old actor Garrett Hedlund is not only noted for his incredible sex appeal and his knack for acting, he's also noted for cautiously choosing film roles, disregarding the possibility of further fame as an actor. He reportedly turned down the role of Finnick in Hunger Games' Catching Fire and the role of Christian Grey in Fifty Shades of Grey. First knowing him as a teenager in Troy, Garrett has grown into a masculine hottie that he is now.
For his character in Tron: Legacy, the actor trained more intensely than usual to achieve a more lean physique. His workout routine was a combination of circuit training and heavy lifting. Before the said movie, his physical trainer remembered him for being a bit skinny and soft, which he really was at the time. His training usually started with warm-ups by rowing to prepare his body and then followed by pyramid training. This includes: Push-ups, Pull-ups, Body weight Squats, Stiff-Legged Dead-lifts, and Hanging Knee Raises. He ends his routine with using the rowing machine once again to cool down.