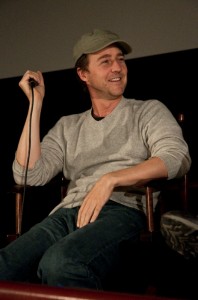 American actor Edward Norton had a great start in the acting industry as he instantly secured starring roles in Primal Fear, The People vs. Larry Flynt, and Everyone Says I Love You, all three released in 1996. It didn't take him long to establish himself as a high-caliber actor with the 1998 movie American History X, which got him an Academy Award nomination for Best Actor, though his first Oscar nomination was for his performance in Primal Fear in the supporting actor category. Mainstream success continued with Fight Club in 1999. In the 2000s, he starred in Red Dragon, Kingdom of Heaven, and went on to portray Bruce Banner / The Hulk in The Incredible Hulk in 2008. Being a prolific actor, Edward continued performing recently with the feature films The Bourne Legacy, The Grand Budapest Hotel, and Birdman or (The Unexpected Virtue of Ignorance), the last of which gained him another Oscar nomination in the supporting actor category.
46-year-old actor Edward Norton is notably known not only for his amazing performances on the big screen, but also for being one of the actors in Hollywood who don't seem to prominently age. He'a also one of the few who maintains an average body and only bulks up a bit when needed for a character on a movie. Most particularly, he trained more rigorously than usual for his critically acclaimed performance in American History X, in which he achieved a more muscular body, though he was wise and disciplined enough to not overdo it.
His workout routine for the aforementioned role consists of pull-ups (2 sets, 15 reps), dead lifts (4 sets, 15 reps), push ups (5 sets, 10 reps), box jumps (5 sets, 10 reps), floor wipers (5 sets, 10 reps), single arm clean and press with kettle-bells (5 sets, 10 reps), back hyper-extensions (3-4 sets, 10 reps), military press (3-4 sets, 8-10 reps), squats (3-4 sets, 6-8 reps), and chest press (4 sets, 8-10 reps). In addition to performing all these, it is important to observe the interval for training to make sure excellent results can be obtained.