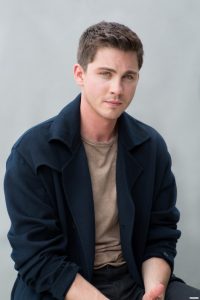 Hollywood actor Logan Lerman had his career beginnings in the early 2000s. He made his film debut in What Women Want. He was then noticed for his role in the movie The Patriot. He next had roles in the films Riding in Cars with Boys and The Butterfly Effect. His first starring role on television was as Bobby McCallister in the show Jack & Bobby. His role in the movie Hoot got him a Young Artist Award for Best Leading Young Actor in a Feature Film.
He later became further known for his role in the movie 3:10 to Yuma. The rest of the 2000s saw him star in the films Meet Bill, Gamer, and My One and Only. His career more significant in the 2010s. During this period, he played the lead Percy Jackson in Percy Jackson & the Olympians: The Lightning Thief. He next starred in the movies The Three Musketeers, The Perks of Being a Wallflower, Percy Jackson: Sea of Monsters, Noah, and Fury. His latest roles are in the films Indignation, The Vanishing of Sidney Hall, and Sgt. Stubby: An American Hero.
The 27-year-old actor has recently bulked up for his roles. He also needed to work on his physique not only to look great but to also improve his strength and agility. He first took his physical training seriously for his role in the movie The Three Musketeers. He needed to learn to do some stunts for the role, hence, his need for physical training where he learned fighting techniques. He shared: "It was a lot of training. It was very intimidating to go out and portray a very skilled fighter and swordsman. I just wanted to be very prepared, so I trained a lot."
He also shared in an interview that his training got also more physical as part of his preparation for his role in the movie Fury. It was physical in a way that he needed to do boxing with his co-stars. He also revealed that it became a sparring to the point that it became a fight as encouraged by the movie's director. It was part of their characters' preparation.