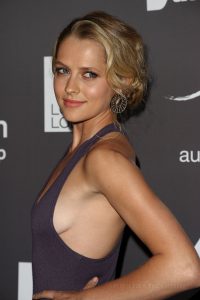 Hollywood celebrity Teresa Palmer began her acting career back in her native country in Australia. After a minor role in a film, she was significantly noticed for starring in 2:37. Around the same time, she made her Hollywood debut. This was after appearing in the film The Grudge 2. She next had a supporting role in December Boys. Her first major role in a Hollywood film was in The Sorcerer's Apprentice. She next starred in I Am Number Four. She went on to star as the female lead in Take Me Home Tonight. Her starring performance in Warm Bodies also gained her wider fame. She recently starred in the romantic film The Choice and horror feature Lights Out.
The 30-year-old actress stays youthful and slender in her appearance. She's already in her 30s and is soon to be a mother of two kids, but her radiance remains the same. The most physically challenging role she played was perhaps on I Am Number Four. This is because she simply had to play a warrior in this movie. And that she did. She was amazing in the film and her moves in fighting scenes made her look like a natural. To prepare for this role, she collaborated with celebrity trainer Jason Walsh to help her achieve a lean and an agile physique.
According to her trainer Teresa was already in her best self before the training. Thus, it was all about taking the next level in terms of her endurance, flexibility, stability and running form. For four days a week, the actress trained for 60-90 minutes. During this period, the actress would begin her training with an active warm-up, primarily stretching with movement just to get the body warmed-up. She then would undergo a series of squats, lunges and other lower-body work. This was followed by particular exercises such as working out on the VersaClimber or the slide board.