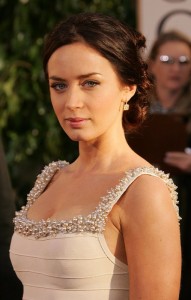 English actress Emily Blunt began her career on British television and took her a couple of years to get noticed in Hollywood courtesy of her supporting role in The Devil Wears Prada. After more roles on the big screen such as in The Jane Austen Book Club, Dan in Real Life, and The Great Buck Howard, she portrayed the titular character in The Young Victoria (2009). This started her career as a leading lady, later starring in The Adjustment Bureau (2011), The Five-Year Engagement (2012), Looper (2012), Edge of Tomorrow (2014), and Into the Woods (2014). Being an A-list actress that she is, Emily has some much-awaited upcoming movies.
Standing at around 5'7 1/2, Emily has a slender figure. Despite her already thin body frame, she was still required to undergo dieting for her role as a ballerina in The Adjustment Bureau. According to the celebrity, instead of having her favorite foods like pasta, she ate poached chicken, fish, salads, and lots of fruits to obtain the body of a ballet dancer. She also ate almonds, brown rice, and granola with soy milk. All her hard work paid off as she was able to play her role in the movie more than well. Now a mother of one (she gave birth in February 2014), Emily still looks fit and healthy.
For her role in Edge of Tomorrow, she also underwent training and disciplined dieting where she only focused on carbohydrate-filled breakfasts, grain proteins and probiotics for lunch and dinner. Foods high in saturated fats, refined sugars, and sodium were all banned from her diet. When asked about her basic diet rule, she said: "My new healthy regime is basically trying to cut out things like pizza — I'm working out, and I'm cutting out pizza." For breakfast, she usually has porridge with blackberries, brown toast with peanut butter, and green tea. She then has tuna salad and miso soup for lunch. Her dinner usually is courgette lasagne with salad and salmon with steamed asparagus and broccoli. In addition, she mostly opts for gluten-free foods.