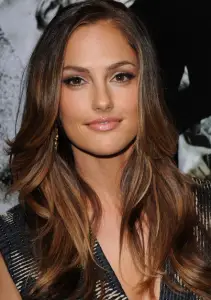 35-year-old actress Minka Kelly naturally got her genes from her rocker father former Aerosmith guitarist Rick Dufay. Her dad being a musician and her mom being a dancer probably influenced Minka to also pursue a career in the entertainment industry. After some acting gigs on both film and television, she got her breakthrough on TV's Friday Night Lights. Around the same time, she's also had roles in The Pumpkin Karver and (500) Days of Summer. Her first starring role was in The Roommate (2011). She went on to play Jackie Kennedy in The Butler (2013). She's also recently starred in the cancelled series Almost Human. Before that, she was part of the main cast of the recent TV remake of Charlie's Angels, which got also cancelled.
Minka's body is certainly one of her best assets. Standing at 5'5, she's noticeably attractive. Apart from her amazing natural beauty and figure, the actress still works out to lead a healthy lifestyle. Now that she's in her mid 30s, it's even more crucial for her to be cautious when it comes to her physical routines and her eating habits. As she said in an interview, she works hard for her body and that none of it was just given to her.
When asked about her most basic diet rule, she said: "Portion control is really important and something I definitely had to learn to maintain my size. But you don't have to deprive yourself of what you love. When you do that you're bound to eventually cave and then you end up making an ever bigger mistake than if you had just had a little bit of what you wanted." The actress said she tries to give in to her cravings by having a cookie and a few piece of chocolate or some almonds. In addition, Minka is fond of pressed juices and likes eating eggs for breakfast.