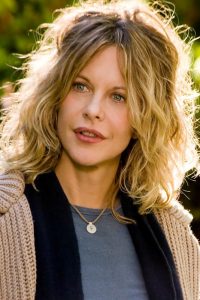 Actress Meg Ryan has been acting in Hollywood since 1981 starting with the film Rich and Famous. She landed more roles after that, including Amityville 3-D, Top Gun, Promised Land, and The Presidio. In 1989, she had her breakout role as Sally Albright in the romantic comedy film When Harry Met Sally… Later in 1991, she portrayed Pamela Courson in Oliver Stone's The Doors. She then gained wider recognition for her starring as Annie Reed opposite Tom Hanks in 1993's Sleepless in Seattle.
Following this, she starred opposite Andy Garcia in the romantic drama When a Man Loves a Woman. Her next role was in the war film Courage Under Fire starring alongside Denzel Washington. She next starred in the romantic-themed films Addicted to Love with Matthew Broderick and City of Angels with Nicolas Cage. She once again collaborated with Tom Hanks in the 1998 film You've Got Mail. She also voiced Anastasia Romanov in the animated film Anastasia.
In the 2000s, she starred in Proof of Life with Russell Crowe and Kate & Leopold with Hugh Jackman. She later starred in Jane Campion's 2003 film In the Cut. After about three years of hiatus, she had performances in the movies In the Land of Women, The Deal, My Mom's New Boyfriend, The Women, and Serious Moonlight. She became less active in the 2010s, only guest-starring as Karen Sharpe on the web series Web Therapy. Her latest film role was in 2016's Ithaca.
It is said that Meg Ryan follows the "zone diet" to stay in shape. With this diet, she has high-calorie intake and substantially cuts down on carbs. This also requires her to eat 5 times per day, distributing calories instead of carbs and proteins in a particular proportion. Its main purpose is to feel fullness for a longer period of time. By avoiding hunger, one does not tend to overeat. This diet entails eating three meals and two snacks with protein and carb food sources with a low glycemic index being ideal.