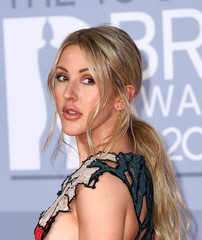 Ellie Goulding's recording career started with the release of her first EP An Introduction to Ellie Goulding in 2009. The following year, she released her first full-length studio album, Lights, where it reached atop the UK Albums Chart. Later that year, it was re-released as Bright Lights, releasing her cover of Elton John's "Your Song" and "Lights".
The latter reached Number 2 on the US Billboard Hot 100, gaining her further fame. In 2012, she released her second album, Halcyon with "Anything Could Happen" as its lead single. It also spawned the single "Burn", which reached Number 1 in the UK. For this, she won the British Female Solo Artist. In 2015, her third album Delirium came out with "On My Mind" as the lead song. Goulding came to wider prominence upon the release of the song "Love Me Like You Do".
For this, she earned her first Grammy Award nomination for Best Pop Solo Performance. This year, her fourth and latest album Brightest Blue was released. In addition to her recording career, she's also made appearances in some television shows. She appeared in the reality talent show The Voice, as well as in the children's show Sesame Street. This year, she recently appeared in the special One World: Together at Home.
Ellie Goulding maintains a healthy figure by sticking to her workout routine, which she follows as part of her day-to-day. She runs everyday and she also boxes. She mixes things up and finds new ways to get fit by discovering fitness classes. For instance, she got into attending a treadmill-weight hybrid class.
"The more I find out about the human body, the more I want to look after it," said the singer. "I like it when the treadmill's on dynamic and I do sprints. I prefer using my own body as a weight, so press-ups, moutain climbers, burpees.."