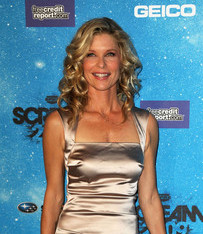 Actress Kate Vernon debuted in the 1983 film Chained Heat. Her next film roles were in Alphabet City and Roadhouse 66. She then gained attention for starring as Lorraine Prescott in the prime time soap opera Falcon Crest. In the '90s, she mostly had guest appearances in various shows like in Who's the Boss?, Tales from the Crypt, L.A. Law, and The Outer Limits.
She then played recurring character Whitney Thomas in the TV series Nash Bridges. The actress also starred in some TV films, such as in Blackjack, Y2K, Largo Winch: The Heir, and Wilder Days, as well as in the movies Dangerous Touch, Malcolm X, and Jackpot. In the 2000s, she became known for her portrayal of Ellen Tigh in Battlestar Galactica. She went on to play Vanessa Wheeler in the NBC series Heroes.
She next had performances in the TV films Red Faction: Origins and Battledogs, among others. More recently, she landed roles in some movies, including Amelia 2.0 and La Boda de Valentina. Vernon also continued her work on the small screen with acting parts in TV films and shows. Her most recent role was as Geneva Micklen in the Apple TV+ series The Morning Show.
In her 60s, Kate Vernon still maintains a slender, fit figure thanks to her healthy lifestyle. Exercising is part of her day-to-day, combining cardio, yoga, and Pilates. She's also mindful when it comes to her eating habits. Nowadays she mostly eats organic foods and prefers a primarily plant-based diet. She usually gets her proteins from soya, beans, and protein-rich veggies like broccoli.
When eating meat, she opts healthier options like fish and chicken. In her every meal, she has veggies and fruits. It's also important for the actress to not miss meals and she also eats in moderation to keep her weight in check. In between meals, she snacks on nutritious and filling snacks like almonds, fruits, and yogurts.