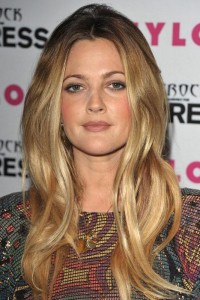 Drew Barrymore was practically raised in the show business, having started acting when she was around five, which is not surprising as she's come from a family of stage and film actors. Her rise to fame was as a child star, thanks to her memorable performance in Steven Spielberg's E.T. the Extra-Terrestrial. Despite a chaotic childhood due to her prominence, Drew was able to gain back her life and started a clean slate, both personally and professionally.
She's widely known for her performances in the romantic comedies The Wedding Singer and 50 First Dates, as well as in the action films Charlie's Angels and its sequel. Aside from acting, Drew ventured into producing with her company, Flower Films, generating successful films like Donnie Darko, the aforementioned Charlie's Angels and 50 First Dates, and Music and Lyrics. She has also proved her caliber as an actress after winning the Golden Globe and SAG Award for Best Actress for her performance in the HBO TV movie Grey Gardens.
Drew is one of the few actresses in Hollywood who's been confident with her not being slim compared to other actresses. Though this wasn't always the case as she struggled with her weight for a long time, considering she grew up in Hollywood with everyone watching and examining her. However, aging in Hollywood must agree with her as she looks great and happier, too. Despite not having that thin figure, it doesn't mean that Drew doesn't workout and apply a certain diet plan. Because she does. After all, working out and dieting is not all about losing weight, it's also about just getting fit and healthy and feeling good from the inside.
Interestingly, Drew was a vegan before. However, in 2004, she switched to being a regular eater to consume animal proteins necessary to enhance her muscles. Most of her diet relies on organic vegetables, fruits, and lean proteins. She's also very cautious when it comes to the amount of calories she intakes. The good thing about her diet is that she just takes it easy. She's not full on dieting mode as getting slim is not her primary goal. She still makes sure she has her cravings as long as she keeps them light.