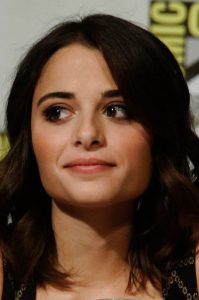 In 1997, English actress Stephanie Leonidas first appeared as an extra in the TV show Chalk. At the beginning of the 2000s, she made one-time roles in Down to Earth and Holby City. Later in 2001, she starred as Della Wells in the soap opera Night and Day. She next made her film debut as an extra in Fogbound the following year. Her first credited role in the movies was in 2004's Yes. She also starred in the TV movie Danielle Cable: Eyewitness.
After a couple of one-episode parts on TV, she appeared in the miniseries Empire, as well as played Mina Murray in the TV film Dracula. Later she guest-starred in Agatha Christie's Marple. During this period, Leonidas also had performances in the films MirrorMask, The Feast of the Goat, and Crusade in Jeans. In the 2010s, she first starred in the TV movie Atlantis: End of a World, Birth of a Legend.
This was followed by guest roles in Eternal Law and Whitechapel. Between 2013 and 2015, the actress became known for starring as Irisa Nyira in the sci-fi series Defiance. Her next work was portraying the role of Salome in the TV movie Killing Jesus. In 2016, she starred as Sophie Hawthorne in the CBS series American Gothic. Afterward, she starred as Chloe Koen in the Crackle series Snatch. The show is based on the film of the same name.
Stephanie Leonidas maintains her healthy body, not by following strict diets but by keeping her food choices as clean and nutritious as possible. For her, staying strong and fit is just a matter of lifestyle changes that start with food. That's why she's since cut back on sugar and carbs. She doesn't eat much bread and dairy like she used to. She's also cut back on red meat and oily foods. Instead, the actress tries to focus on having a plant-based diet with occasional meat. She also eats foods high in complex carbs to keep her satiated for a long time, which helps her eat in moderation during meals.