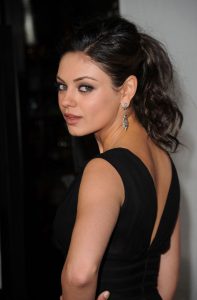 Mila Kunis is an American actress born to Ukrainian parents. She emigrated to the US with her family when she was young. In the US, she developed an interest in acting and auditioned for roles on television. She got lucky and was cast for a starring role in the comedy series That '70s Show. She starred on the show for several years, earning her mainstream recognition and making her a household name along with her co-stars, including her now-husband Ashton Kutcher. With this, it became easier for her to make a transition into the movies with her first lead role in the direct-to-video stand-alone sequel and spin-off of American Psycho, American Pyscho 2. Her breakthrough as a movie actress was when she starred in the romantic comedy Forgetting Sarah Marshall. Critical success ultimately followed when she played a supporting role in The Black Swan, which earned her a Golden Globe nomination for Best Supporting Actress. She has since starred in other well-known films, such as Ted, Friends with Benefits, and Jupiter Ascending.
The pretty-faced actress first captured the audiences' hearts courtesy of her sassy role in the well-liked sitcom That '70s Show. Throughout the years, she has garnered even wider prominence with her remarkable performances in multiple feature films. Though people known her for being petite, the actress has always maintained a healthy lifestyle to manage her weight and stay fit and healthy. Aside from clean eating, she also engages in physical activities such as cardio exercises to ensure she stays strong and also for the purpose of increasing her stamina.
Now that she's a mother, it becomes more crucial for the actress to stay in shape, not just for her work as an actress but so she could also play her role as a first-time mommy more efficiently. It is also quite remarkable how she was able to get back to her original figure after giving birth to her first child with husband Ashton. Her portrayal of a ballerina in The Black Swan was also notable as she had to lose significant amount of weight to be super skinny. For this reason, she experienced to diet and exercise more rigorously. She also took more efforts to engage in workout sessions to prepare for her role in Jupiter Ascending. Basically, Mila likes running, swimming, and even playing sports and doing outdoor activities.