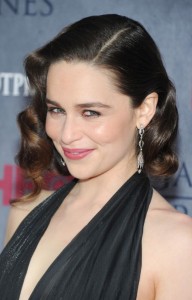 Recently announced as Esquire magazine's Sexiest Woman Alive, Emilia Clarke is taking Hollywood by storm, first achieving fame for her remarkable role as dragon-riding queen in Game of Thrones, which she first played in 2011. Since then, the English actress has been a household name, starring in Spike Island, Dom Hemingway, and recently played Sarah Connor in Terminator Genisys.
Emilia is presently shooting Game of Thrones' sixth season and fans are looking forward to see more of her amazing character on the show. She will also star in the upcoming movies Voice from the Stone and Me Before You. As part of being an actress, Emilia needs to undergo dieting and workouts, more specifically for her role as Sarah Connor in Terminator Genisys. Because her role in the movie was action-oriented, she needed to be fitter and more agile to play the part more efficiently.
For that iconic role, Emilia worked tremendously hard to play an action figure. Apart from her intense exercises, the actress also revealed in interviews how she had to deprive herself of food as part of her dietary regimen. When presented a food spread on the same interview, she admitted how she's only allowed to have a cup of tea and nothing else. No sugar and no cream even. She notably said: "I have not been allowed to eat anything that might taste good at all."
This didn't go unnoticed as someone from Women's Health advisory board remarked on how dangerous the actress' method on losing weight was. Basically, when you drastically reduce your food consumption, your metabolic rate slows down by default. This is because it tries to hold on to existing energy. Also, depriving yourself from foods you like just because they taste good makes you crave for them even more, which results to binge eating so you gain back the weight you lost, maybe even more.