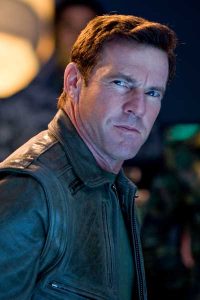 Hollywood actor Dennis Quaid has had a long, prolific career. It started in the 1970s where he had roles in a couple of films and TV movies. His first notable performance was in 1979's Breaking Away. In the '80s, he became known for his works in the films The Long Riders, The Right Stuff, and Jaws 3-D. He went on to portray Jerry Lee Lewis in the film Great Balls of Fire! In the '90s, he gained wider recognition for starring as Doc Holliday in the movie Wyatt Earp and Nicholas "Nick" Parker in The Parent Trap. He also played Jack 'Cap' Rooney in the film Any Given Sunday.
In the 2000s, he continued his work in the movies. He was mostly notable for his performances in Traffic, Cold Creek Manor, The Rookie, American Dreamz, The Day After Tomorrow, Vantage Point, and G.I. Joe: The Rise of Cobra. In the 2010s, he starred in Soul Surfer, the remake of Footloose, What to Expect When You're Expecting, A Dog's Purpose, and Kin. He's also recently been active on the small screen. On television, he played Sheriff Ralph Lamb in Vegas and currently plays Samuel Brukner in The Art of More. He also starred as Michael Lennox in the British series Fortitude.
The 64-year-old actor maintains his strong and lean physique but how does he stay in top shape all these years? In an interview with Men's Health, he got candid about his fitness routine. "I used to box when I was in my 20s. There was this guy at the time at the Hollywood Y, who was in incredible shape in his 50s. I asked him that same question. 'How do you do that?' He told me, 'You take care of yourself in your 20s and 30s and the rest will take care of itself," he shared.
The actor also revealed that he actually enjoys having a consistent means of fitness. "I was a runner for about 35 years, but that gets hard on the knees and the joints. At least for me. So I turned to cycling, which I'm currently doing. That and yoga. Along with that, you got to still get into the gym and lift. Do the sit-ups," he went on to say.