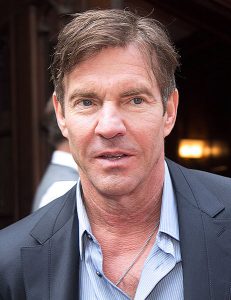 Dennis Quaid first attracted attention with his role in the 1979 film Breaking Away. He next portrayed Ed Miller in the 1980 western film The Long Riders. After this, he starred as Barry Morrow in the TV films Bill and Bill: On His Own. During the '80s, he gained wider recognition for his starring performances in the movies The Right Stuff, The Big Easy, and Innerspace. He then portrayed musician Jerry Lee Lewis in the 1989 biographical film Great Balls of Fire!
In the '90s, Quaid's career was established with a long list of film roles, including Undercover Blues, Wyatt Earp, Dragonheart, and Any Given Sunday. He also starred as Nicholas "Nick" Parker in the family film The Parent Trap. In the following decade, the actor had performances in Traffic, Cold Creek Manor, The Alamo, The Day After Tomorrow, American Dreamz, Vantage Point, and Horsemen. He next played General Clayton M. Abernathy / Hawk in 2009's G.I. Joe: The Rise of Cobra.
In 2010, Quaid portrayed Bill Clinton in the film The Special Relationship. He next starred as Sheriff Ralph Lamb in the CBS period drama Vegas, which aired from 2012 to 2013. After this, he starred as Samuel Brukner in the web series The Art of More. He recently played Michael Lennox in the British series Fortitude and as Wade Blackwood in Amazon's Goliath. He also starred in several films during this period. Some of which are Legion, Soul Surfer, Footloose, A Dog's Purpose, The Intruder, and A Dog's Journey.
Apart from his workout routine, Dennis Quaid keeps in top shape by eating well. He's already at the point in his life where unhealthy meals don't appeal to him. That's why the actor maintains his fit body by regularly eating lean meats, vegetables, and fruits. He's since cut back on alcohol, carbs, sugar, and anything that won't help him increase his strength.