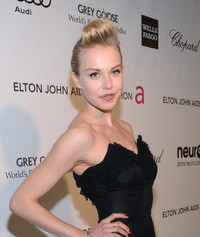 Aussie star Penelope Mitchell is slowly getting recognition in Hollywood. Her acting career started in 2009, in an episode of the Australian series Rush. She next appeared in one episode of Offspring. Around the same time, she also acted in several short films. Soon after, she appeared in a few independent films – 6 Plots, The Joe Manifesto, and The Fear of Darkness. In 2013, she ventured into Hollywood with the starring role of Letha Godfrey in the Netflix series Hemlock Grove.
Following this, she got the part of Olivia 'Liv' Parker in The Vampire Diaries, a role she played from 2014 to 2015. Mitchell then had performances in the films Zipper, The Curse of Downers Grove, and Curve. Her next roles were in the movies Apartment 212, The Midwife's Deception, Between Worlds, and Look Away. She also starred in the Hallmark movie The Time Capsule. Later in 2019, the actress played a role in the feature film Hellboy. More recently, she had a performance in the film Becoming. Mitchell was also featured in the music video of the song "Lonely Town" by Brandon Flowers.
Penelope Mitchell takes care of her body by making conscious efforts to improve her lifestyle. She works out as regularly as possible and eats healthily. When it comes to eating well, she minimizes her consumption of processed foods altogether. She has since cut back on carbs and she usually avoids sugary and oily foods.
Her diet plan typically consists of egg, fish, chicken and lots of salads. She tries to eat more veggies and fruits as part of her day to day. For snacks in between meals, she satiates her hunger with protein bars, almonds, and smoothies. Every now and then, she still indulges in her cravings but she does so in moderation.