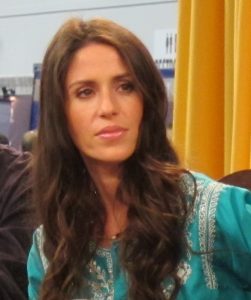 Hollywood star Soleil Moon Frye first rose to fame as the lead star Penelope "Punky" Brewster in the sitcom Punky Brewster. The show aired on NBC during the 1980s. She then made her film debut in 1987's You Ruined My Life. She reprised her role as Punky in the animated spin-off series It's Punky Brewster. In the 1990s, she made guest roles in The Wonder Years, Saved by the Bell, ABC Weekend Special, and Friends, among others.
She then became further known for starring as Roxie King in Sabrina, the Teenage Witch. At the same time, she was the voice of Zoey in the animated series The Proud Family. She went on to have more guest voice roles on other animated shows. Later in 2013, she hosted the TV program Home Made Simple. It was announced that she'll reprise her role as Punky in the upcoming Punky Brewster sequel. In the movies, she's had performances in The St. Tammany Miracle, Pumpkinhead II: Blood Wings, Motel Blue, and The Girls' Room.
Soleil Moon Frye keeps her body in top shape by eating conscientiously. Nevertheless, she doesn't follow any strict diets. Most mornings, she tries to eat a healthy breakfast by opting lots of protein. So, she'd usually have an avocado or egg whites. Every now and then, she'd have her morning indulgences as well, such as bacon and chocolate chip pancakes. Overall, she keeps her meals healthy. Throughout the day, she eats salads and plenty organic fruits and veggies.
The actress also doesn't deprive herself of some sweet treats. "I ate every chocolate in sight," she said in an interview. She, however, balances it all out by having lighter snacks. She usually prefers carrots and celery in hummus. Organic vegetables are surely a huge part of her diet plan.