Early Life and Worldwide Success on the Big Screen
Demi Moore was born on November 11, 1962 in Roswell, New Mexico, United States to parents Air Force airman Charles Harmon, Sr. and Virginia King. Her biological father left her mother before she was born. When Moore was three months old, her mother married Dan Guynes. Moore thought Guynes was her real father until she learned about the truth when she was 13.
At age 15, Moore relocated with her mother to West Hollywood, California. There, she studied at Fairfax High School. When she was 16, she left her family's home and left high school in her junior year. She then signed with the Elite Modeling Agency and traveled to Europe to work as a pin-up girl.
After being inspired by her neighbor, German actress Nastassja Kinski, Moore decided to take drama classes. In 1981, she appeared on the cover of the adult magazine Oui for its January issue. That same year, she made her film debut with the deaf-teen drama Choices. The following year, she appeared in the 1982 movie Parasite.
She then gained recognition on television for her role as Jackie Templeton in the soap opera General Hospital, which she played from 1981 to 1984. Her acting career took off after being cast in the movie Blame It on Rio and played the lead role in No Small Affair. In 1985, she made her mainstream breakthrough in Joel Schumacher's St. Elmo's Fire. Though the film garnered poor reviews, it became a blockbuster hit, gaining Moore international stardom.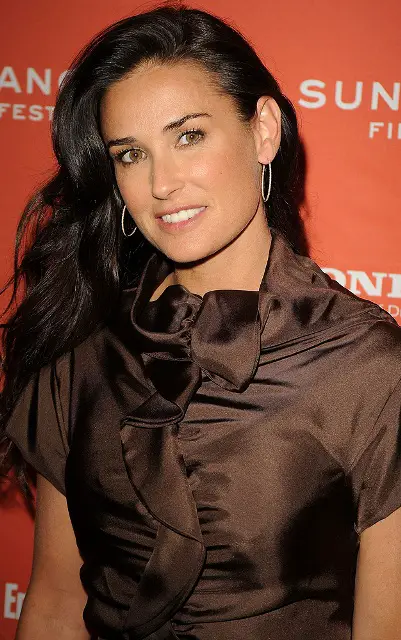 From the mid to late 1980s, she starred in such feature films as About Last Night…, One Crazy Summer, Wisdom, The Seventh Sign, and We're No Angels. In 1990, she starred as Molly Jensen in the sleeper hit Ghost. It grossed over $505 million at the box office and was the highest-grossing movie of that year.
Ghost received an Oscar nomination for Best Picture and Moore was nominated for the Golden Globe for Best Actress. In the early 1990s, she appeared in Nothing but Trouble, Mortal Thoughts (where she also served as the producer) and The Butcher's Wife.
She then gained further fame for her roles in A Few Good Men, Indecent Proposal and Disclosure – all of which were box office hits. By 1995, Moore became the highest-paid actress in Hollywood. However, she starred in a number of unsuccessful films like The Scarlet Letter, Now and Then and The Juror.
Despite the poor performances of the said films, Moore was paid the record-breaking salary of $12.5 million in 1996 to play Erin Grant in the movie Striptease. Although the movie grossed over $113 million, it failed to reach expectations and was widely considered a flop.
In 1997, she notoriously shaved her head to portray a Navy SEAL recruit in Ridley Scott's G.I. Jane. The picture only achieved moderate success at the box office. During the production of the film, Moore reportedly ordered studio chiefs to charter two planes for her and her entourage, creating a backlash as it gained her a negative reputation for being a diva.
Also, she was previously dubbed by the media as "Gimme Moore" as she had previously turned down Sandra Bullock's role in While You Were Sleeping because the studio refused to meet her salary demands. After G.I. Jane, she starred in Woody Allen's Deconstructing Harry.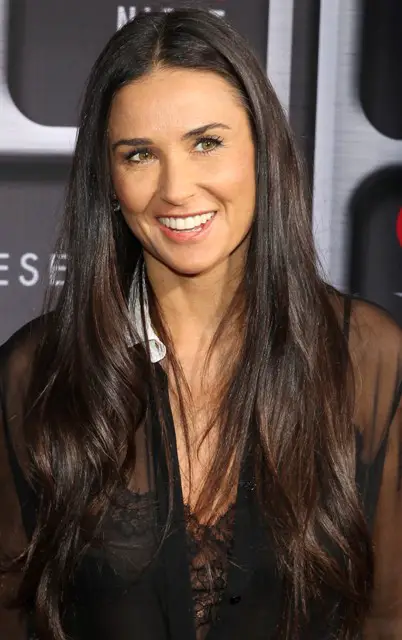 Career Hiatus, Personal Life and Plastic Surgery
She then took a three-year hiatus to devote her time in raising her three daughters. She made a comeback with the 2000 film Passion of the Mind. Three years had passed before she returned to acting again, this time as Madison Lee in Charlie's Angels: Full Throttle. Subsequent movies include Half Light, Bobby, Mr. Brooks, Flawless, Happy Tears, The Joneses, Bunraku, Margin Call, Another Happy Day, LOL and in the upcoming film Very Good Girls.
Moore, not only has a controversial career, she also has a much talked-about relationships. In 1980, at the age of 18, she married singer Freddy Moore who is 12 years her senior. Before they got married, Moore was already using Freddy's surname as her stage name. In September 1984, she filed for divorce.
She then married her second husband, Bruce Willis, on November 21, 1987. They have three daughters together: Rumer (born August 16, 1988), Scout (born July 20, 1991) and Tallulah (born February 3, 1994). The couple, however, announced their separation on June 24, 1998 but only filed for divorce on October 18, 2000.
In 2003, she started dating Ashton Kutcher and they were married on September 24, 2005. In November 2011, Moore announced her separation from Kutcher. After more than a year of separation, Kutcher filed for divorce from Moore on December 21, 2012.
Moore also attracted attention when it was reported that she went under the knife for some procedures. Before she made her notable entrance wearing a skimpy bikini in Charlie's Angels: Full Throttle, which was supposed to be her comeback after taking a break from acting, it was revealed that she spent plenty of dollars for cosmetic surgeries.
She had breast implants, collagen injections and liposuction on her hips, thighs and stomach, as well as an expensive procedure to lift the sagging skin on her knees. The decision came from her wanting to score major roles in films just like the old days. With this, pressure is certainly on to actresses who are in their 40's and 50's that such measures are done to make sure they keep being seen on the limelight.