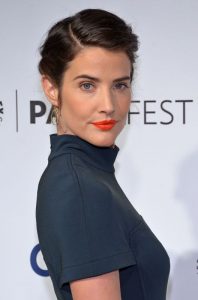 Canadian actress Cobie Smulders started her career on American television. She began appearing as a guest part on some shows. Her first significant work on the small screen was on Veritas: The Quest. She next had recurring roles on The L Word and Andromeda. Afterwards, she got her major breakthrough on How I Met Your Mother. She played Robin Scherbatsky on the show that lasted nine seasons. She also played Maria Hill on Agents of S.H.I.E.L.D., as well as in The Avengers and Captain America: The Winter Soldier. Her latest movie is Jack Reacher: Never Go Back.
The 34-year-old actress maintains a healthy lifestyle. It's not because it makes her look good, it's more because she feels good. Not only does she eat right, she also works out. Despite her busy career, she tries to find the time to move her body and do her sessions. In an interview, she said: "For me, it's more about being healthy than about how I look." When asked about one of her favorite sessions, she said: "I do Pilates because it's important for me to have a healthy back when I'm 70 so I'm not hunched over and in pain. That's more important to me than being thin."
Apparently, Cobie focuses on getting a healthy body rather than a slim one, which is great, of course. What about her go-to exercises? She said in an interview: "I have this routine where I do 20 situps, where I do the plank for a minute. I try to find these moments where I can do these exercises." She ended it with these wise fitness words: "I think [being healthy is] having a life where everything is balanced—where you work really hard but also have these moments where you get to play." No wonder Cobie is the perfect example of health, fitness and beauty rolled into one.