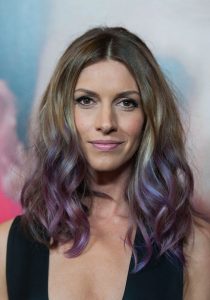 Actress Dawn Olivieri first appeared on the reality show The Player in 2004. Afterward, she made her acting debut with a one-time role on CSI: Crime Scene Investigation. She also appeared in 5 episodes of the game show Deal or No Deal as a model. This was followed by a couple more one-time roles on some TV shows like Las Vegas. She next played Anna in two episodes of How I Met Your Mother, after which she starred on the TV movie Hydra. In 2006, she made her cinematic debut in The Devil's Den. From 2009 to 2010, she became known for her recurring character Lydia on NBC's Heroes, followed by one-time roles on such TV shows as True Blood and Rules of Engagement.
During the start of the 2010s, she also performed in a few independent and straight-to-video films. She also ventured into voice acting, playing Pepper Potts on The Avengers: Earth's Mightiest Heroes. In 2011, she guest-starred as Andie Star on The Vampire Diaries. She later had her major breakthrough playing Monica Talbot on Showtime's House of Lies, starring on the show from 2012 to 2016. Simultaneously, she starred as Det. Felicia Sanchez on Secrets and Lies. In addition, Olivieri has had roles in the films Missionary, Plush, American Hustle, Supremacy, The Last Witch Hunter, Bright, and A Change of Heart. This year, she starred in the movies Den of Thieves and Traffik.
Apart from her workout routine, the actress stays in shape by following a clean diet plan. This means she generally stays away from processed and junk foods. She practices portion control at all times and makes sure she does not overeat. Her diet plan mainly consists of lean proteins and complex carbs such as whole grains, as well as fruits and veggies, which she incorporate into her meals on a daily basis. While she allows herself to indulge in cravings every now and then, she does so moderately.