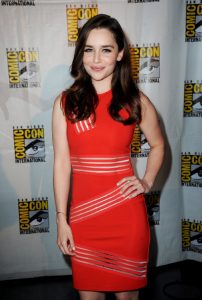 English actress Emilia Clarke is now one of the new brightest faces in Hollywood. Her immense popularity coming solely from her role as the Dragon Queen, Daenerys Targaryen on Game of Thrones, a widely acclaimed series with millions of fans worldwide. Her screen career began with a minor appearance on the UK series Doctors. This was followed by a TV movie Triassic Attack. She was then cast for the role of Daenerys Targaryen on the aforementioned show, which has since become an instant hit. For her performance, she has been nominated twice for Primetime Emmy Award for Outstanding Supporting Actress. Her new-found stardom allowed her to explore other opportunities in Hollywood. It started with a starring role in Dom Hemingway, followed by her portrayal of Sarah Connor in Terminator Genisys. She recently starred in the romantic drama Me Before You. Emilia was also voted Esquire's Sexiest Woman Alive in 2015.
Now a huge star, Emilia is loved by many. Men adore her for her beauty and women just really want to know what her secret is to being so hot. In an interview during a red carpet event, we have had a glimpse of what her diet is like. During that time, it seemed she was not allowed to eat a lot to maintain her slender figure. When it comes to working out, the actress also does not stay complacent and does what she has to do to ensure she stays fit and healthy.
Interestingly, her figure was not the actual description of her character on Game of Thrones. The character should be tall, willowy, and blonde. Emilia on the other hand, is short, a bit round, and has brown hair, but she auditioned anyway, and voila, she won the role. Even though she's not thin, her body is considered as gorgeous because she looks healthy. To maintain her body, she exercise regularly. For her role in Terminator Genisys, she underwent grueling workouts at the gym, which involved weight training, kickboxing, shooting guns, cardio, and stunt training. Even up to now, she still engages herself in training sessions.