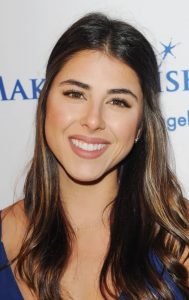 Celebrity Daniella Monet debuted in an episode of Pacific Blue. This was back in 1997. She pursued acting full-time several years later, playing Joyce Fitzsimmons in 3 episodes of American Dreams. She also appeared in an episode of Still Standing. After this, Monet had a recurring part as Missy Kleinfeld in 8 Simple Rules. Her first starring role on the small screen was as Megan Kleinman in the short-lived CBS sitcom Listen Up! After the series ended, she played Listen Up! in 3 episodes of Zoey 101.
Following this, the actress had performances in the feature films Nancy Drew and Taking Five. In the 2010s, she gained mainstream fame for playing Trina Vega in the Nickelodeon series Victorious, which aired between 2010 and 2013. She reprised her role in an episode of iCarly. She also played Mitzi in the animated series Winx Club. In 2012, she played Bertha in Fred: The Show, as well as became a panelist in Figure It Out.
She later hosted AwesomenessTV from 2013 to 2015. During this period, Monet went on to star in the films Simon Says and A Fairly Odd Movie: Grow Up, Timmy Turner!. She also reprised her role as Bertha in the TV films Fred 2: Night of the Living Fred and Fred 3: Camp Fred. Plus, Monet starred as Tootie in the TV movies A Fairly Odd Christmas and A Fairly Odd Summer. Between 2016 and 2018, the actress played recurring character Sam Saffe in the sitcom Baby Daddy. She next hosted the TV show Paradise Run.
Fans of the actress-singer would know that Monet has shed substantial weight since her Nickelodeon days. To do so, she embarked on a journey of a clean diet and an active lifestyle. Now in her 30s, she's able to integrate these healthy habits into her day-to-day. In her blog, Monet would post her workout routine, which combines cardio, bodyweight exercises, bicycle crunches, leg lifts, weighted squats, and more.