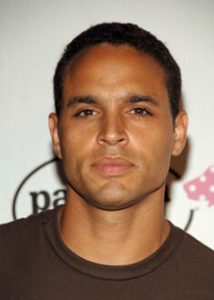 Hollywood actor Daniel Sunjata debuted on television. His first role on the small screen was in the TV film Twelfth Night, or What You Will back in 1998. Later in 2000, he had his first notable role on TV, playing Lewis Freeman in the television drama D.C. His next role was in the television film The Feast of All Saints. He also appeared as Zachary Pell in some episodes of the soap opera All My Children. Between 2002 and 2004, he became known for his role as Burt Trevor in Law & Order: Special Victims Unit.
Meanwhile, in the movies, he debuted in 2002's Bad Company. This was followed by roles in the films Melinda and Melinda, Noel, and Brother to Brother. Sunjata's breakthrough role was as Franco Rivera in the comedy-drama series Rescue Me. It aired on FX from 2004 to 2011, earning him mainstream prominence. Simultaneously, he had performances in such movies as The Devil Wears Prada, Ghosts of Girlfriends Past, Loose Change 9/11: An American Coup, and Weakness.
Also, he portrayed professional baseball player Reggie Jackson in the TV drama The Bronx is Burning. From 2010 to 2011, the actor also played Nurse Eli in Grey's Anatomy. After Rescue Me ended, he played Peter Gillman in Smash, Paul Briggs in Graceland, and Jake Gregorian in Notorious. More recently, he played Danny in the NBC series Manifest, as well as appeared in some episodes of Happy! Sunjata also had performances in the films The Dark Knight Rises, Lullaby, and Small Town Crime.
Nearing his 50s, Daniel Sunjata makes efforts to keep his body in good shape through healthy eating and regular workout routine. The actor used to play football (he even considered playing professional football), hence, he's used to getting his body physical. That's why physically training for his roles doesn't really bother him. As for his regular fitness regimen, he prefers to keep things simple by combining cardio and weights. He also still plays sports and loves to perform more physical outdoor activities.