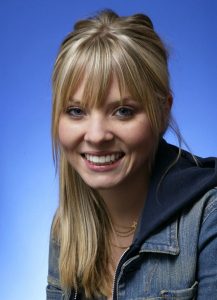 It was in 2002 that Hollywood star Kaitlin Doubleday started her acting journey. Her first TV role was in Without a Trace while her first movie role was as Joanna in Catch Me If You Can. During the next couple of years, she appeared in the movies Freshman Orientation, Waiting…, The TV Set, Accepted, and The Tomb. Her first regular role on the small screen was in Cavemen, which premiered in 2007. In the 2010s, she appeared in three episodes of Hung. She became further known for starring as Rhonda Lyon in the TV series Empire. This year, she's part of the main cast of Nashville's fifth season. She plays the role of Jessie Cane in the said show.
Kaitlin maintains her health and fitness by trying her best to have time for exercise. Aside from sticking to a proper diet, she also strives to live a physically active lifestyle. This is not just to maintain her slim figure, but to also improve her strength, energy, and mood. Basically, working out makes her feel good in and out, that's why she tries her best to follow her fitness routine no matter how busy she gets. Normally, she works out most of the time.
She said in an interview: "I definitely workout five to six days a week. In one workout I like doing both cardio (25 minutes on a high level of the stair machine or a 45-minute treadmill class) and also weights or resistance training." She also alternates between going to the gym and training on her own, as well as switching up her exercise routines. This way, she can avoid getting bored. She also said she enjoys performing lunges with weights, crunches and push-ups. "I'm also hugely into yoga. Advanced vinyasa classes are my favorite couple of hours of the week," she added.