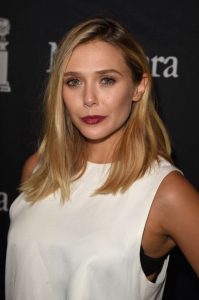 Elizabeth Olsen got into industry because her older sisters, twin Mary-Kate and Ashley were already in the show business. She first appeared as herself in videos in the early 1990s when she was just a child and later made cameos in her sisters' films like in How the West Was Fun. Unlike her sisters, she wasn't really active as a child actress and only came back in 2011 when she was already in her 20s with a lead role in Martha Marcy May Marlene. This was a strong debut for her as her performance was lauded by critics. She recently starred as Wanda Maximoff / Scarlet Witch in Avengers: Age of Ultron and Captain America: Civil War, earning her further fame.
Looking at her slender body, one can easily assume that Elizabeth follows a healthy lifestyle. For sure, she exercises regularly, given she recently played a superhero. More importantly, the actress eats right and healthy to make sure that she doesn't only stay sexy, but also fit. Unlike her sisters, Elizabeth also seems to have a healthy body as she's slim, but not very slim to the point of looking unhealthy. For one, she likes having full breakfast as eating first thing in the morning gives her all the right energy to start her day right.
She likes having eggs, bread or oatmeal with fruits in the morning. For lunch, she focuses on eating protein-rich foods like chicken or fish accompanied with veggies. At night, she usually opts for pasta with fruits. In between, she eats yogurt and fruits for snacks. She also prefers having fruit shakes in order to avoid getting hungry in between. Because she also loves food, she makes sure she has a cheat day where she usually has pizza and burgers, as well as cupcakes, though moderation is always crucial for her.