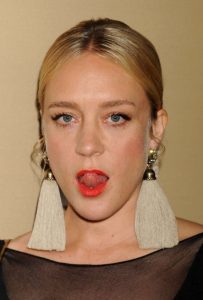 Actress Chloë Sevigny had her career beginnings in the mid-1990s, starting with the movie Kids. She next became known for her starring role as Lana Tisdel in Boys Don't Cry. She became more prolific in the 2000s, starring in the films American Psycho, Dogville, Melinda and Melinda, Sisters, and Zodiac. She also gained recognition for her role as Nicolette Grant in the HBO series Big Love. In the 2010s, she had performances in the movies Lovelace, Love & Friendship, Little Accidents, and The Wait, among others.
Her most recent works on the big screen are in Golden Exits, Beatriz at Dinner, Lean on Pete, and The Snowman. She also recently played the titular character in the movie Lizzie. In addition, she's played Shelley in American Horror Story: Asylum, Alexandra in Portlandia, Christina in The Mindy Project, Catherine Jensen in Those Who Kill, Chelsea O'Bannon in Bloodline, and Dr. Alex Lowe in American Horror Story: Hotel.
The Hollywood star takes care of her body and her overall health by eating well. She understands the consequences of a poor diet so she generally avoids processed and junk foods. For one, she controls herself even when it comes tot he foods she loves for the sake of her health. In an interview, she got more candid about her diet plan. When asked if she thinks her diet can be credited to her amazing and healthy looking skin, she said:
"I hope so, because I refrain from lots of things I love, like cheese and carbs. I eat plenty of greens every day, my favorite being watercress. I also drink a juice or two from Liquiteria. I go for the Royal Flush or All Greens, depending on what I'm craving or how much I had to drink the night before." Her choosing to focus on a clean diet is also one of the reasons why she looks radiant.